The Bogibeel Bridge is the Longest Railway Bridge in India over the Brahmaputra River.
It is a combined constructed road and rail bridge and it is Asia's second-longest rail-cum-road bridge.
The Bogibeel Bridge has a length of 4.94 kilometers over the Brahmaputra river and its serviceable period is around 120 years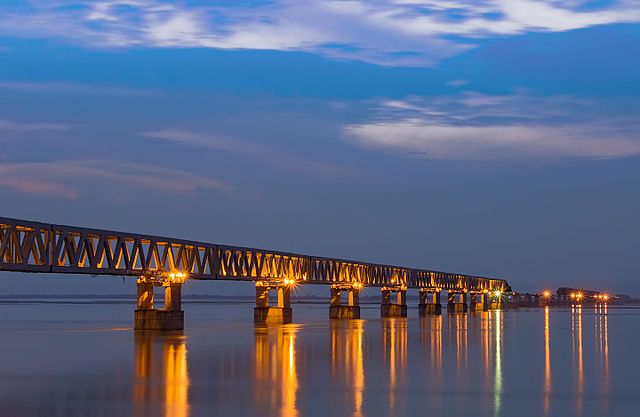 The construction of India's longest rail-cum-road started in the year 2002 and took a total of 200 months to complete.
It is located in Assam between Dhemaji district and Dibrugarh district.
The bridge was inaugurated by Prime Minister Narendra Modi on 25 December 2018 on the occasion of Good Governance Day.
The Bogibeel Bridge is India's first bridge to have fully welded steel-concrete support beams and can withstand earthquakes of magnitudes up to 7 on the Richter scale. The bridge has a total of 41 spans of 125 m.
The bridge is built keeping in view the strategic importance of the area, it can support the movement of tanks and aircrafts.
The bridge was constructed by a consortium of construction companies headed by Hindustan Construction Company.
The initial estimated cost of the project was at ₹1,767 crore (US$220 million). By the year of 2014 it escalated to ₹4,996 crore (US$630 million).
Finally the overall project was completed at an cost of ₹5,960 crore (US$750 million) as the total length of the bridge increased from 4.31 kilometres to 4.94 kilometres.
The Bogibeel bridge has a double rail line on the lower deck and a three-lane road on the upper deck.
The Vembanad Rail Bridge is the second-longest railway bridge in India. It has a total length of 4,620 meters.
It connects rail lines between Edappally and Vallarpadam in Kochi, Kerala, and is dedicatedly used for freight services.
List of Top 10 Longest Railway Bridges in India
S.no
Bridge
River/Water Body
Length
Type
State
1
Bogibeel Bridge
Brahmaputra River
4,940m
Rail-cum-road
Assam
2
Vembanad Rail Bridge
Vembanad Lake
4,620m
Rail
Kerala
3
Digha-Sonapur Bridge
Ganga River
4,556m
Rail-cum-road
Bihar
4
Munger Ganga Bridge
Ganga River
3,750m
Rail-cum-road
Bihar
5
Nehru Setu
Son River
3,059m
Rail
Bihar
6
Godavari Bridge
Godavari Bridge
2,790m
Rail-cum-road
Andhra
Pradesh
7
Godavari Arch Bridge
Godavari Bridge
2,745m
Rail
Andhra
Pradesh
8
Naranarayan Setu
Brahmaputra River
2,284m
Rail-cum-road
Assam
9
Farakka Barrage
Ganga River
2,275m
Rail-cum-road
West
Bengal
10
Mahanadi Rail Bridge
Mahanadi River
2,100m
Rail
Odisha
Longest Railway Bridges in India (Source)
Read More: