The Vembanad Lake is the largest lake in India with an area of 2033 square kilometers. It is not only the largest but the longest lake in India also.
The lake has a length of is 96.5 km which makes it the longest lake in India and is approximately 14 kilometers wide at its widest point.
The Vembanad Lake spans many districts of Kerala and is known as Vembanadu Lake in Kottayam, Vaikom, Changanssery, Punnamada Lake in Alappuzha, Punnappra, Kuttanadu, and Kochi Lake in Kochi.
It is fed by the waters of ten rivers out of which six major rivers are Meenachil, Manimala, Achankovil, Muvattupuzha, Pamba, and Periyar.
The Lake has the second largest wetlands (Vembanad wetlands) after the Sunderbans in West Bengal and is identified under the National Wetlands Conservation Programme.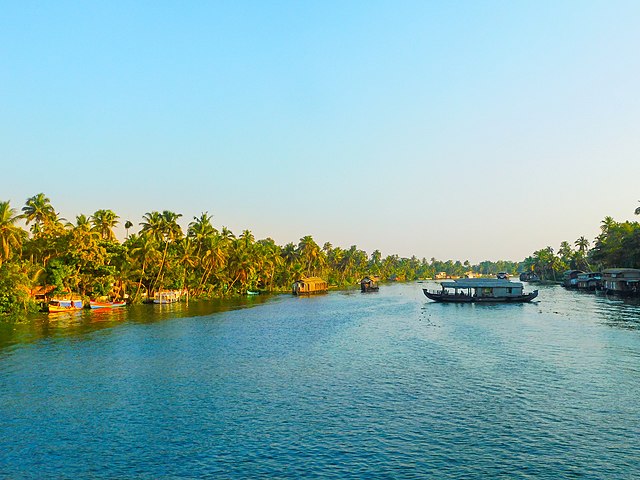 It is separated from the Arabian Sea by a narrow barrier island. The lake is surrounded by Pathiramanal, Perumbalam, and Pallippuram islands.
The Kumarakom Bird Sanctuary is located on the east coast of the lake.
💡 Travel Tips: Vembanad Lake (Kerala) – All You Need to Know BEFORE
A very unique and outstanding feature of Vembanad Lake is the 1252 m long saltwater barrier called Thanneermukkom. It was built to stop saltwater intrusion into the Kuttanad lowlands.
The Thanneermukkom saltwater barrier divides the lake into two parts, one with perennial brackish water and the other with fresh water from rivers draining into the lake.
The Nehru Trophy Boat Race or Vallam Kali is a Snake Boat Race held every year in the month of August in Vembanad Lake.
💡 Travel Guide: Explore Kerela – A Complete Travel Guide
Lakes in India
The are a large number of lakes in India natural and artificial both. Lake can be found in India in various types of landscapes from mountains, plains, plateaus, etc.
Lakes are large bodies of slowly moving or standing water surrounded by land and contained in a basin. The source of water in the lakes can be melting ice from glaciers, rivers, groundwater seepage, etc.
The majority of lakes on Earth are freshwater and can be classified into various categories and types.
Some of the major types of Lakes are Fresh Water Lakes, Salt Water lakes, Natural Lakes, Artificial Lakes, Oxbow lakes, Crater lakes, etc
Top 10 Largest Lakes in India
Here is a list of the Top 10 Largest Lakes in India in order of their area.
| S.no | Name of the Lake | State/UT |
| --- | --- | --- |
| 1 | Vembanad Lake | Kerela |
| 2 | Chilika Lake | Odisha |
| 3 | Shivaji Sagar Lake | Maharashtra |
| 4 | Indira Sagar lake | Madhya Pradesh |
| 5 | Pangong Lake | Ladakh UT |
| 6 | Pulicat Lake | Andhra Pradesh |
| 7 | Sardar Sarovar Lake | Gujarat |
| 8 | Nagarjuna Sagar Lake | Telangana |
| 9 | Loktak Lake | Manipur |
| 10 | Wular lake | Jammu and Kashmir UT |
List of Largest Lakes in India Areawise
Which is the Largest Freshwater Lake in India?
Wular Lake in Jammu and Kashmir is the largest freshwater lake in India.
Which is the Largest Saline water Lake in India?
Chilka Lake in Odisha is the largest saline water lake in India.
Which is the Largest Artificial Lake in India?
Govind Vallabh Pant Sagar (Rihand Dam) located at Pipri in Sonbhadra District of Uttar Pradesh is the largest artificial lake in India
Read More: