The Bhupen Hazarika Setu is the longest road bridge in India. It is located in Assam and is commonly known as Dhola Sadiya Bridge.
The total length of the bridge is 9.15 km and it connects the northeast states of Assam and Arunachal Pradesh.
The bridge is built over the Lohit river, a tributary of the river Brahmaputra and is the first permanent road connection between northern Assam and eastern Arunachal Pradesh.
The Indian Prime Minister Narendra Modi along with Nitin Gadkari, Minister of Road Transport and Highways inaugurated the bridge on 26 May 2017.
The bridge is named after Bhupen Hazarika a very prominent and famous artist and filmmaker from Assam.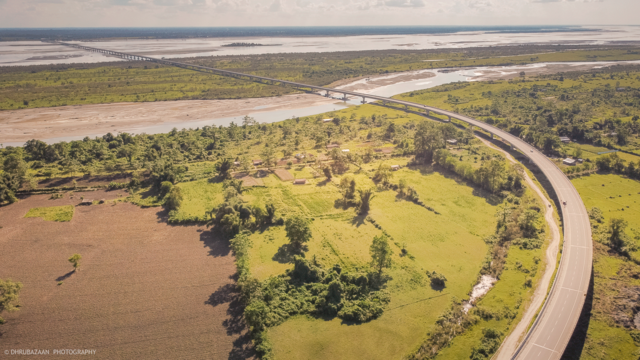 The bridge is a very important tactical asset for India as it is along the Line of Actual control along the India-China border.
In case of any incursion by the Chinese Army, this bridge can help in the movement of India's defense assets. It is designed to handle the weight of Indian Army tanks like Arjun and T-72 which can weigh up to 60 tonnes.
The Dibang River Bridge is the second road longest bridge above water in India and was completed in 2018.
It connects Dambuk and Roing in the eastern part of Arunachal Pradesh and has a total length of 6.2 km.
However, the Kacchi Dargah–Bidupur Bridge is under construction and has an expected length of 9.76 km and will surpass the Bhupen Hazarika Setu as the longest road bridge in India over water.
The bridge will connect Kacchi Dargah in Patna and Bidupur in Hajipur in Bihar and is estimated to be complete by July 2023.
Here is a list of the top 10 longest road bridges over water in India
S.No
Name
River/Water Body
Length
(meters)
State/UT
Completed/Opened
1
Bhupen Hazarika Setu
Lohit River
9,150
Assam
2017
2
Dibang River Bridge
Dibang River
6,200
Arunachal Pradesh
2018
3
Mahatma Gandhi Setu
Ganges River
5,750
Bihar
1982
4
Bandra-Worli Sea Link
Mahim bay
5,600
Maharashtra
2009
5
Vikramshila Setu
Ganges River
4,700
Bihar
2001
6
Arrah–Chhapra Bridge
Ganges River
4,350
Bihar
2017
7
Godavari Fourth Bridge (Kovvur–Rajahmundry 4th Bridge)
Godavari River
4,135

Andhra Pradesh
2015
8
Chahlari Ghat Bridge
Ghaghra River
3,249
Uttar Pradesh
2017
9
Jawahar Setu
Son River
3,061
Bihar
1965
10
Daudnagar bridge
Son River
3,020
Bihar
2019
Longest Road Bridges Over Water in India
Note: Above list contains only road bridges over water bodies. It doesn't contain longest rail cum road bridges or rail bridges in the list
Read More: