North East India is one of the most beautiful and unexplored regions in the country. The northeastern Seven Sisters States of India, are blessed with natural beauty, rich culture, and diverse traditions.
The region is home to some of the most breathtaking landscapes, which are still relatively unexplored as compared to other parts of India.
In this blog post, we will take a look at some of the unexplored destinations in North East India that you should consider visiting.
Arunachal Pradesh: Tawang
Tawang is a small beautiful and scenic town nestled in the lap of the majestic Himalayas at an altitude of 3048 meters. It is located near the Indo-China border in the northeastern state of Arunachal Pradesh.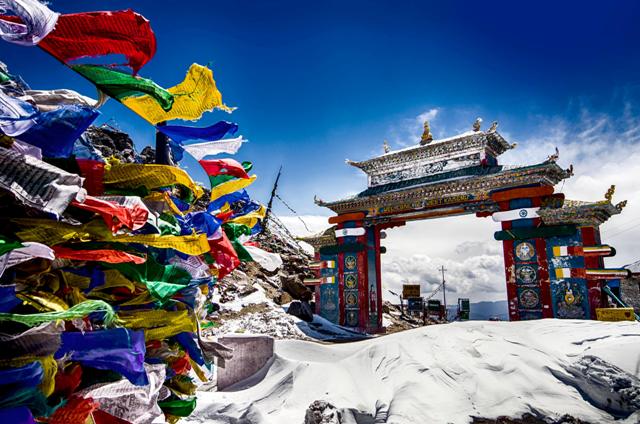 It is known for its stunning views, cultural heritage, and historic Buddhist monasteries.
Tawang is home to the Tawang Monastery which is the second biggest and oldest in Asia. The Tawang monastery is also known as the Tawang Ganden Namgyal Lhatse which means 'celestial paradise in a clear night'.
It was founded by Merag Lodroe Gyamtso in the year 1680-81 in accordance with the wishes of the 5th Dalai Lama, Ngawang Lobsang Gyatso.
Tourists can also visit the Tawang War Memorial built to commemorate the martyrdom of soldiers who laid down their lives in the Sino-Indian war.
💡 Read More: Interesting Facts about Seven Sister States of India
Assam: Haflong
Haflong is the only hill station in Assam. It is located in the Dima Hasao district and is 330 km away from Guwahati. It is a scenic hill station known for its breathtaking landscape, vibrant lakes, waterfalls, and lush green valleys.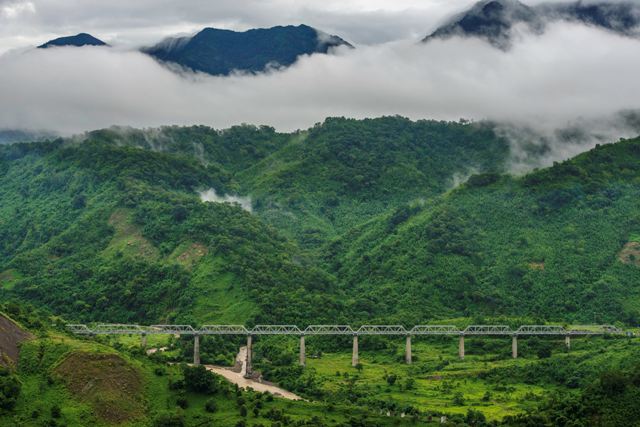 Haflong Lake is the largest natural water body in Assam and is a great place for recreational activities such as boating, sailing, etc. Nature lovers are surely mesmerized by the beauty and calmness of the place.
Maibong, Silchar, and Jatinga are some of the worth visiting places situated in close proximity to Haflong. Tourists can visit the beautiful Bhuvaneshwar Temple in Silchar and the Ramchandi Temple in Maibong.
Jatinga is popularly referred to as the "place for bird suicides" and thousands of birds plunge to their death in this village of Jatinga. This phenomenon occurs annually during the moonless nights of August and September.
💡 Read More: 10 Interesting Facts about Assam
Manipur: Ukhrul
Ukhrul is a beautiful small town in Manipur and is home to the cheerful Tangkhul Nagas tribe. The hill station of Ukhrul is known for its scenic views and pleasant climate.
It is 81 km from the capital city of Imphal and is no less than a paradise for tourists. It has a lot to offer to visitors from lush green mountain ranges, majestic waterfalls, crystal clear rivers, and lakes.
Ukhrul is a peaceful and calm place and helps you to escape from the hassle and bustle of busy city lives. It has a pleasant climate with temperatures ranging from 3°C to 33°C which makes it an ideal place to visit especially during the summers.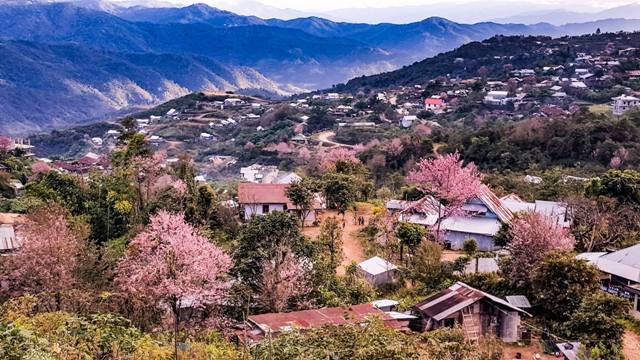 Ukhrul experiences rainfall from the month of April to August and the best time to visit is between October to March.
It is a rich cultural destination popular for its festivities which attract tourists all over the year. It is famous for rare the Shirui Lily (Lilium Mackliniae Sealy), which is found in its natural habitat on the peak of Shirui Kashong.
Shirui Lily is the state flower of Manipur and these beautiful lilies bloom in May and June and are a sight to behold.
Shirui Kashong Peak is one of the most popular tourist attractions in Ukhrul and an excellent spot for a picnic, making it a year-round destination for tourists. It is located just 18km east of the Ukhrul.
A visit to Khayang Peak and its waterfalls is an off-beat destination and requires extensive trekking for 5-6 days. It is a mesmerizing destination yet to be explored by many travellers. For trekking enthusiasts, the enchanting beauty of Khayang waterfalls will be a lifetime experience that cannot be missed.
The unexplored Ango Ching forest near the Myanmar border forms a natural habitat for elephants, tigers, sambars, barking deer, etc and the natural beauty of the place will surely captivate the attention of tourists.
Tourists can visit many popular attractions including Khachauphong Lake, Khangkhui Mangsor Cave, Dilly Waterfall, Hung Dung Manga Cave, Lunghar Seihai Phangrei, and more that are around Ukrul.
💡 Read More: 8 Amazing Facts about Manipur – The Jeweled Land
Meghalaya: Mawlynnong
Mawlynnong is one the cleanest villages in India, located 92 km from Shillong, the capital city of the vibrant Meghalaya.
The village is locally referred to as 'God's Own Garden' and is highly appreciated for its community-based eco-tourism initiative.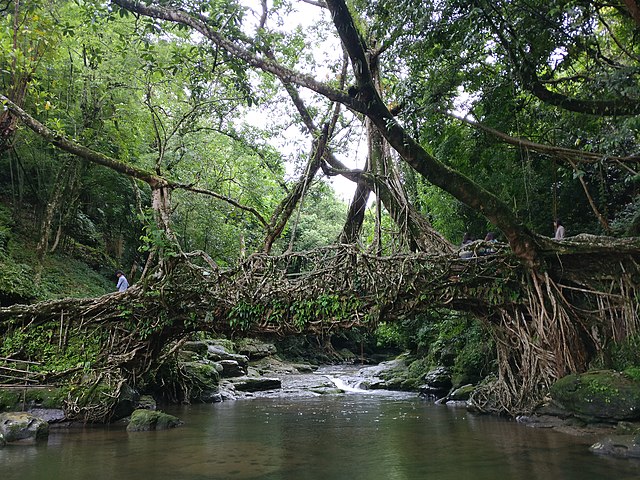 In 2003, Discover India magazine awarded this small beautiful village the title of the cleanest Village in Asia and the cleanest in India in 2005. After receiving these titles Mawlynnong got a lot of public attention and has become one of the major tourist attractions in Meghalaya.
The weather in Mawlynnong remains pleasant throughout the year and the best time to visit Mawlynnong is during the monsoon between June to September. During the monsoon, the flowers bloom and the environment becomes scenic.
The most famous icon of Meghalaya is found in this village, the living root bridges created by weaving the aerial roots of the rubber fig tree with the help of bamboo.
Another reason to include Mawlynnong in your itinerary is the balancing rock, a huge boulder resting on a smaller stone. Additionally, the century-old European architectural style Epiphany Church and the beautiful tree houses near the church.
You can also admire the Sky View Tower made of bamboo which is 85 feet high and enjoy the panoramic views of Mawlynnong and even the plains of Bangladesh.
💡 Read More: Top 7 Amazing Facts about Meghalaya
Mizoram: Phawngpui
Phawngpui also known as the Blue Mountain is the highest peak in the state of Mizoram. It is located in Lawngtlai district near the Myanmar border. The peak is considered the abode of local deities and is a highly revered place.
The name Phawngpui is derived from the Lai language. 'Phong' means 'grassland' or 'meadow', and 'pui' means 'great'.
The Peak is one of the most amazing destinations in North East India and it overlooks the hills of Myanmar and the mighty River Chhimtuipui.
Phawngpui is the highest peak of the Lushai Hills and has a level ground of about 2 km square on top of it. The region has a wide variety of flora and fauna and has been declared as a national park.
Phawngpui National Park is one of only two national parks of India in Mizoram. The best time to visit this natural paradise is between October to April. Though it is a protected area but Mizoram govt allows eco-friendly tours from November to April.
Adventure travellers and trekking enthusiasts will love this place. The region is home to rare bird species like Blyth's tragopan, Hume's pheasant, dark-rumped swift, and also mammals like the Asiatic black bear, slow loris, stump-tailed macaque, tiger, goral, capped langur and leopard.
💡 Travel Guide: Mawlynnong – The Cleanest Village in Asia
Nagaland: Dzukou Valley
Dzukou Valley is a perfect trail to a trekker's paradise and is one of the most breathtaking tourist attractions in North East India. Located at an altitude of 2438 meters the valley is Nagaland's Unexplored Paradise.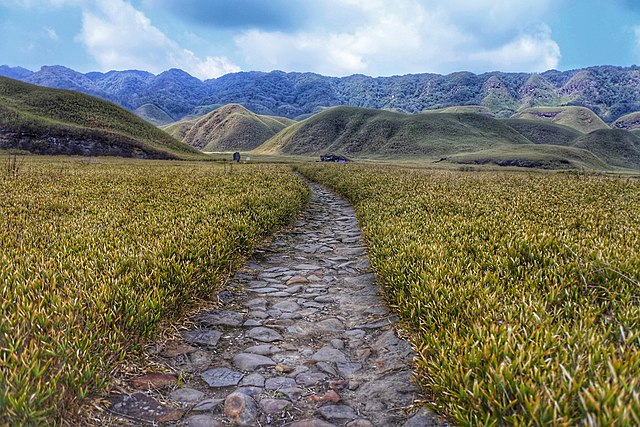 The valley is a visual treat of emerald green hills and forest, serpentine streams, lush meadows, and myriad colourful blooms. Dzukou Valley is also called the Valley of Flowers.
It is located between the Senapati district of Manipur and the Kohima district of Nagaland in Northeast India. It is home to several rare and endangered species of flora and fauna.
Dzukou Valley is a perfect destination for trekking, hiking, and camping. It gives you natural scenic views, making it an exquisite location for photography and nature lovers. The valley offers a calm and peaceful environment to unwind, relax and rejuvenate.
The best time to visit Dzukou Valley is from May to mid-June, and from September to October.
💡 Read More: Top 8 Interesting Facts about Nagaland
Tripura: Neermahal
Neermahal is a beautiful royal place situated in the middle of Rudrasagar Lake. The palace is one of a kind of tourist destination in northeastern India. Neermahal literally means water palace and was built by Maharaja Bir Bikram Kishore Debbarman Manikya as a summer residence for the royal family.
The palace is also known as the 'lake palace' of Tripura and is a blend of Hindu and Mughal styles of architecture. It is also the largest water palace in India and is located in Melaghar 53 kilometers away from Agartala, the capital city of Tripura.
Neermahal is an example of architectural elegance, extensive marble and sandstone are used in the construction of the palace.
A three-day festival, Neermahal Water Festival is celebrated every year in August at Melaghar and Rudrasagar Lake. Many colorful cultural programs and events are organized during the festival. The boat race competition in Rudrasagar Lake is the major attraction of the festival.
Moreover, tourists can enjoy light and sound shows every weekend and can go for motorboating.
In conclusion, North East India is truly a treasure of unexplored destinations. Each one of the seven sister states has its own unique charm and beauty that is waiting to be discovered.
If you are looking for an extraordinary travel experience, travel to these unexplored destinations in North East India. From the majestic views in Tawang to the Valley of Flowers and the largest water palace in India, Neermahal, northeast India has a lot to offer to any kind of traveler.
So pack your bags and start the unforgettable journey of your life by exploring the hidden gems of Northeast India.
---