The Statue of Unity is the Tallest Statue in India. It is not only the tallest statue in India but also the tallest in the world.
The Statue of Unity is a homage to the "Iron Man of India" Sardar Vallabh Bhai Patel. It is a patriotic symbol of his legacy, a man who devoted his whole life to the struggle for independence.
The statue is not only a tribute to the Iron Man of India but also is the first such tourist attraction located in India and is termed 'Pride of Nation'.
The Statue of Unity – the tallest statue in the world project was first announced on 7 October 2010.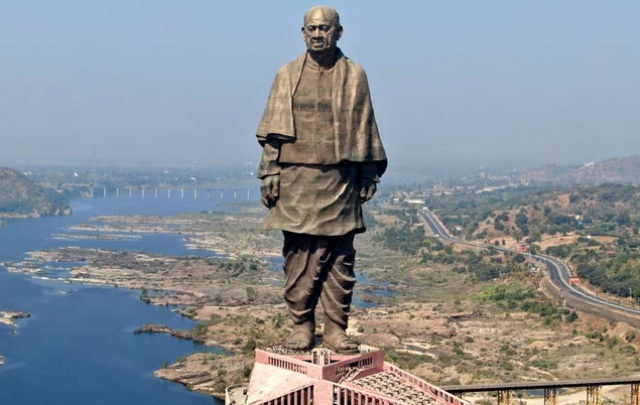 On 31 October 2013, Statue's Foundation stone was laid by Narendra Modi, the then-serving Chief Minister of Gujarat to mark the 138th birth anniversary of Sardar Vallabhbhai Patel.
The Statue of Unity was built in just 46 months and was unveiled by Prime Minister of India, Narendra Modi on October 31, 2018.
Standing at a height of 597 feet (182 meters), the statue of unity depicts Sardar Vallabhbhai Patel, an Indian freedom fighter, and social and political leader.
He was an iconic leader and first deputy prime minister and the home minister of independent India.
The height of the Statue of Unity is 182 meters or 597 feet with a base of 240 meters or 790 feet.
It is twice the size of the Statue of Liberty in the United States, and 40% taller than China's Spring Temple Buddha.
In the first 11 days of its opening, over 1,28,000 tourists visited the site.
The Statue of Unity is capable of withstanding wind velocity up to 50 meters/second (180 kilometers/hour speeds) and vibration.
The statue has been designed for seismic Zone IV as an earthquake-resistant structure.
Read More: Sarojini Naidu – 'The Nightingale of India'
Location – Statue of Unity – The Tallest Statue in India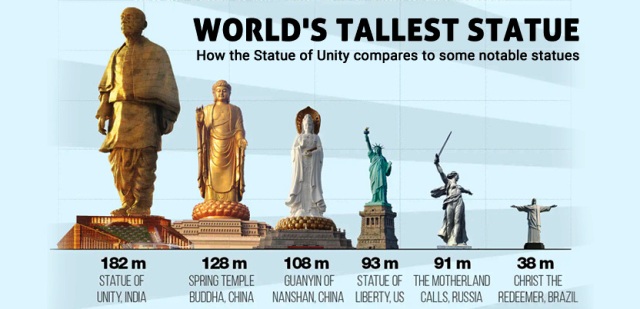 This massive statue stands on the small island of Sadhu-Bet in the Narmada river, at Kevadia near Rajpipla City, in the Indian state of Gujarat.
The statue has a backdrop of majestic Vindhyachal and Satpuda Mountain Ranges.
The statue's surroundings occupy more than 2 hectares (4.9 acres) area. It is surrounded by a 12 sq km artificial lake.
Read More: Statue of Unity – Tallest Statue in the World
Cost of the Tallest Statue in India
The Statue of Unity was built on a Public-private partnership (PPP) funding model.
The total cost of the building was Rs 2,989 crores. Most of the money was raised by the Government of Gujarat.
Larsen & Toubro won the contract on 27 October 2014 for its lowest bid of ₹2,989 crores (US$420 million) for the design, construction, and maintenance. They commenced the construction on 31 October 2014.
For visiting the Statue of Unity tickets can be booked online at www.soutickets.in