Sarojini Naidu – 'The Nightingale of India' was an eminent poet, political activist, and one of the leading female faces in India's struggle for independence.
She was an exceptional orator and promoted Indian Independence, civil rights, and especially women's rights, education, and liberation.
Sarojini Naidu was against the British Colonial laws and her anti-imperialistic ideas made her a very important personality in India's freedom struggle
She was an ardent advocate of women's rights and inspired an entire generation of women in the freedom struggle as well as in promoting women's rights.
Her work as a poetess earned her the title of 'the Nightingale of India', or 'Bharat Kokila' by Mahatma Gandhi.
Sarojini Naidu was the second female president of the India National Congress, the first was Annie Besant. She was also the first woman to be appointed an Indian state governor.
A country's greatness lies in its undying ideals of love and sacrifice that inspire the mothers of the race. – Sarojini Naidu
Sarojini Naidu – Child Hood and Early Life
Sarojini Naidu was born on February 13, 1879, in Hyderabad. Her father Dr. Aghornath Chattopadhyaya was a scientist and her mother Varada Sundari Devi was a Bengali poetess.
She was the eldest among eight siblings. Their parental home was at Brahmangaon Bikrampur, Dhaka, Bengal province. (Present day in Bangladesh)
Her father was a prominent member of the Indian National Congress in Hyderabad. He was the first principal of Nizam College of Hyderabad.
Sarojini Naidu was a genius kid and as a child prodigy, she topped the matriculation exam at Madras University in 1891 at the age of 12 years.
Her father wanted her to be a scientist or mathematician. But she was more interested in poetry and literature. She wrote 'The Lady of the Lake' a 1300-line long poem, which impressed her father a lot. He realized that her literary proficiency is exceptional and encouraged her to pursue writing.
Read More: Bhikaiji Cama: The First Lady to Hoist India's Flag on Foreign Soil
Personal Life – Education and Marriage
Sarojini Naidu got a scholarship from the Nizam of Hyderabad and went to study in England when she was only 16 years old.
She studied at King's College, London, and then Girton College, Cambridge from 1895 to 1898.
Sarojini Naidu fell in love with Govindarajulu Naidu whom she met in England. She came back to India in 1898 and both got married the same year.
Govindarajulu Naidu a physician by profession was from Andhra and Sarojini was from Bengal, this was an inter-regional marriage of East and South India, with two different cultures.
But was approved by both families.
Sarojini Naidu and Govindarajulu Naidu had five children namely Jayasurya, Padmaja, Randheer, Nilawar, and Leilaman.
Their daughter Padmaja also joined the independence movement and was part of the Quit India Movement.
Following her mother's footsteps, Padmaja become governor of west Bengal in 1961.
Sarojini's brother, Virendranath Chattopadhyaya was a political activist who played a key role in establishing the Berlin Committee. He was probably executed on the orders of Joseph Stalin in Soviet Russia in 1937. Her second brother Harindranath Chattopadhyaya was a noted poet and playwright.
Political Career – Role in the Indian National Movement
Sarojini Naidu joined the Indian Independence Movement in 1905 during the partition of Bengal.
She got inspired by leaders like Mahatma Gandhi, Gopal Krishna Gokhale, and Rabindranath Tagore to work for the cause of attaining freedom from Britishers and social reforms.
Sarojini Naidu with Jawaharlal Nehru helped and supported the indigo workers in Champaran who were being subjected to violence and oppression.
In 1919 she went to London as an ambassador of the All India Home Rule League to raise her voice for freedom from British rule.
She joined Mahatma Gandhi's Satyagraha Movement in 1920 against the introduction of the Rowlatt Act.
Sarojini Naidu was the first ever woman to assume the position of President of the Indian National Congress Party in 1925.
In an expression of hope and courage, she said, "In the battle for liberty, fear is one unforgivable treachery and despair, the one unforgivable sin".
Naidu also presided over the East African and Indian Congress 1929 session in South Africa.
She was arrested, along with other Congress leaders including Mahatma Gandhi, Jawaharlal Nehru, and Madan Mohan Malviya for participating in the Salt March in 1930.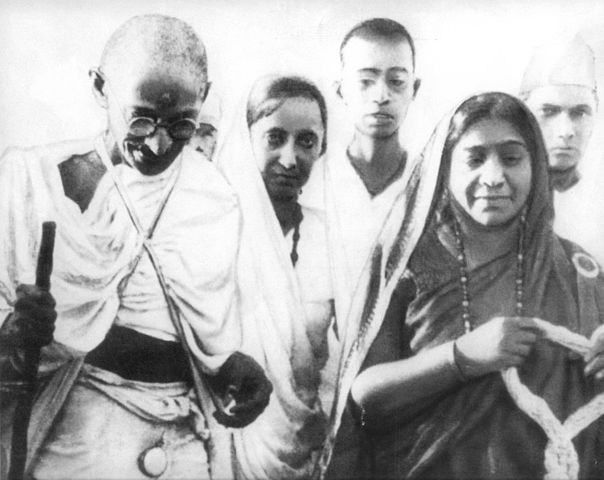 In 1931, Sarojini Naidu and other leaders of the Congress Party participated in the Second Round Table Conference headed by Viceroy Lord Irwin in the wake of the Gandhi-Irwin Pact.
Sarojini was one of the major figures to have led the Civil Disobedience Movement and the Quit India Movement led by Mahatma Gandhi. Her activities in India on behalf of independence brought prison sentences in 1930, 1932, and 1942.
In 1942, she was arrested and remained in jail for 21 months.
Naidu was one of the members of the constituent Assembly. Thus, contributing to the founding pillars of Indian democracy through a written and well-thought Constitution.
Read More: Statue of Unity – Tallest Statue in the World
Sarojini Naidu – Writing Career – Literary Achievements and Work
Sarojini Naidu was well respected as a poet and was considered as "Indian Yeats"
Her first collection of poems titled 'The Golden Threshold' was published in 1905. It had an introduction from Nobel Laureate Arthur Simon and a sketch of her as a teenager drawn by John Butler Yeats
She became an incredible poet of the 20th century by expressing her emotions and experiences through poems.
Sarojini Naidu's poem "In the Bazaars of Hyderabad" was published as a part of The Bird of Time with her other poems in 1912 and it was very well received by the critics.
Her poems covered Indian contemporary life and events.
The Feather of The Dawn which contained poems written in 1927 by Naidu was edited and published posthumously in 1961 by her daughter Padmaja Naidu.
Sarojini Naidu – Feminist Works – Women's Rights
Sarojini Naidu traveled to different parts of India and gave lectures on social welfare, women empowerment, and nationalism.
She presented the need to include more women in Congress and in the freedom struggle.
In 1918, she along with other British feminists started a magazine called Stri Dharma, which presented international news from a feminist perspective.
In 1917, she helped to establish the Women's Indian Association (WIA) with Muthulakshmi Reddy and Annie Besant.
The Association sought equal rights including the right to vote and represent.
She led a women's voting rights delegation to London to plead for equal rights for women and also joined the international movement for women's suffrage.
Read More: India Gate – Iconic Symbol of Patriotism
Death and Legacy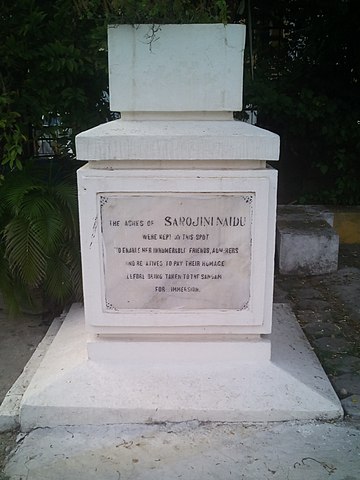 She died of cardiac arrest at 3:30 p.m. on 2 March 1949 at the Government House in Lucknow. Her last rites were performed at the Gomati River.
Google India commemorated Naidu's 135th birth anniversary with a Google Doodle in 2014.
Sarojini Naidu was listed among the "150 Leading Women" list by the University of London in the United Kingdom in 2018.
She is known as "one of India's feminist luminaries" February 13 is observed as National Women's Day to mark the birth anniversary of Sarojini Naidu.
In 1966 the first biography of Naidu, Sarojini Naidu: a Biography by Padmini Sengupta was published.
The Government of India Films Division produced a twenty-minute documentary about Naidu's life, "Sarojini Naidu – The Nightingale of India", directed by Bhagwan Das Garga in 1975.
Sarojini Naidu: The Nightingale and The Freedom Fighter a biography for children was published in 2014 by Hachette.
 "As long as I have life, as long as blood flows through this arm of mine, I shall not leave the cause of freedom…I am only a woman, only a poet. But as a woman, I give to you the weapons of faith and courage and the shield of fortitude. And as a poet, I fling out the banner of song and sound, the bugle call to battle. How shall I kindle the flame which shall waken you men from slavery…" 
Read More: Siachen Glacier – The Highest Battle Ground on Earth
Here are some interesting facts about Sarojini Naidu – the Nightingale of India
Sarojini Naidu wrote a Persian play titled "Maher Muneer" at a very early age which got her numerous praises and appreciation from all over the world.
Nizam of Hyderabad, Mahbub Ali Khan was so impressed with her that he gave her the scholarship to study in England. First at King's College, London, and later at Girton College, Cambridge.
Sarojini Naidu was proficient in many languages like Urdu, Telugu, English, Bangla, and Persian.
Edmund Gosse called her "the most accomplished living poet in India" in 1919
In 1914 she was elected a fellow of the Royal Society of Literature.
In 1916 she authored the biography of Muhammad Ali Jinnah entitled The Ambassador of Hindu-Muslim Unity.
The British government awarded her the Kaisar-i-Hind medal for her work during the plague epidemic in India in 1911 which she later returned in protest over the April 1919 Jallianwala Bagh massacre
Sarojini Naidu was the first woman governor in independent India. She became the governor of the United Province. (Present day Uttar Pradesh)
Sarojini Naidu nicknamed Mahatma Gandhi "Mickey Mouse".
Asteroid 5647 discovered by Eleanor Helin at Palomar Observatory in 1990 was named in her memory