Indian Scientists have made numerous contributions in the fields of Science and Technology. India has produced some of the best minds in the world who have helped to reshape our lives.
There are several Indian women scientists who have contributed significantly to various disciplines of science and technology. Their lives are role models for all girls who aspire to make a mark in the field of science.
Here is a list of some of the greatest Indian women scientists of all time.
1. Janaki Ammal
Janaki Ammal was a renowned Indian botanist and plant cytologist. She was the first woman to obtain a Ph.D. in botany in the United States from the University of Michigan in 1931.
She was born on 4th Nov 1897 in Thalassery, Kerala. Her father Diwan Bahadur Edavalath Kakkat Krishnan was Dy. Collector of Malabar district and her mother's name was Devi Kuruvayi.
She made significant contributions to genetics, evolution, phytogeography, ethnobotany, and economic value from the rain forests of Kerala
Her most notable work involved studies on sugarcane and eggplant (brinjal). She extensively worked on plant breeding, cytogenetics, and phytogeography and was able to create a high-yielding strain of sugarcane that would thrive in Indian conditions.
She also worked on the cytogenetics of a range of plants and co-authored the Chromosome Atlas of Cultivated Plants (1945) with C.D. Darlington.
She became the first Director of the Central Botanical Laboratory at Allahabad, in 1952 and was awarded Padma Shri by the then-prime minister of India in 1977.
Janaki Ammal died on 7 February 1984 while working at her research lab.
2. Kamala Sohonie
Kamala Sohonie was one of the most notable Indian biochemists. She was the first Indian woman to receive a Ph.D. in a scientific discipline.
She was born on 8th June 1912 in Indore, Madhya Pradesh, India. Her father, Narayanarao Bhagvat, and uncle Madhavrao Bhagvat were also chemists and alumni of the erstwhile Tata Institute of Sciences in Bengaluru.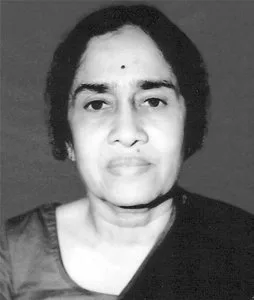 Kamala graduated with a BSc degree from Bombay University in 1933 and then applied to the Indian Institute of Science for a research fellowship, but her application initially was not approved by the then-Director Prof. C V Raman on the grounds that women were not considered competent enough to pursue research.
Kamala felt humiliated and did a 'satyagraha' outside Prof. C V . Raman's office. Finally, he had to grant admission to her, but with some conditions.
Although admittedly humiliated by them, Kamala agreed to the conditions and thus became the first woman to be admitted into the institute in 1933.
Later She said about the incident,
Though Raman was a great scientist, he was very narrow-minded. I can never forget the way he treated me just because I was a woman. Even then, Raman didn't admit me as a regular student. This was a great insult to me. The bias against women was so bad at that time. What can one expect if even a Nobel Laureate behaves in such a way?.
Also after a year, many women got their admission to the institution.
Her research delved into the effects of vitamins and into the nutritive values of pulses, paddy, and groups of food items consumed by some of the poorest sections of the Indian population. Her work on the nutritional benefits of the palm extract called 'Neera' was inspired by then-president Rajendra Prasad's suggestion. Kamala Sohonie received the Rashtrapati Award for this work
Google paid tribute to Kamala Sohonie on 18 June 2023 her 112th birth anniversary with a Google Doodle.
3. Bibha Chowdhuri
Bibha Chowdhuri was an eminent Indian physicist who worked on particle physics and cosmic rays. The International Astronomical Union (IAU) honored her by naming a white-yellow dwarf star (HD 86081) Bibha after her name.
She was born on 3 July 1913 in Kolkata. Her father, Banku Behari Chowdhuri, was a doctor and her mother's name was Urmila Devi.
She joined the Bose Institute after graduating in 1939 and worked with Debendra Mohan Bose. Together, they experimentally observed muons and published on cosmic rays
Chowdhuri demonstrated that the density of penetrating events is proportional to the total particle density of an extensive air shower.
She was interviewed by the Manchester Evening News, saying that "it is a tragedy that we have so few women physicists today". The article was titled Meet India's New Woman Scientist – She has an eye for cosmic rays.
Chowdhuri returned to India after her Ph.D., working at the Tata Institute of Fundamental Research for eight years.
In 1954 she was a visiting researcher at the University of Michigan. She joined the Physical Research Laboratory and became involved with the Kolar Gold Fields experiments. She moved to Kolkata to work at the Saha Institute of Nuclear Physics where she taught physics in French.
Her life was described in the book A Jewel Unearthed: Bibha Chowdhuri. She was described by The Statesman as a forgotten legend.
She continued to publish research papers until she died in 1991
4. Asima Chatterjee
Asima Chatterjee was a notable Indian organic chemist, renowned for her work in the fields of organic chemistry and phytomedicine. She was the first woman to be awarded a Doctor of Science by the Indian University (University of Calcutta) in 1944.
She was born on September 23rd, 1917 in Calcutta into a middle-class family and was the eldest child with a younger brother. Her father Indra Narayan Mookerjee was a doctor and was very supportive of Asima and her brother's education, which was rare at the time.
Her most notable work includes research on vinca alkaloids, the development of anti-epileptic drugs, and the development of anti-malarial drugs.
She also authored a considerable volume of work on medicinal plants of the Indian subcontinent and published over 400 papers on Indian medicinal plants and their chemistry.
She was the first woman to be elected as the General President of the Indian Science Congress.
She was nominated as a Member of the Rajya Sabha from February 1982 to May 1990 by the President of India. In 1975 she was conferred with the Padma Bhushan.
She left for her heavenly abode on November 22, 2006, in a nursing home in Kolkata, at the age of 89.
Google paid tribute to Asima Chatterjee on her 100th birth anniversary by deploying a Google Doodle in her honour.
Read More: Bhikaiji Cama: The First Lady to Hoist India's Flag on Foreign Soil
5. Kamal Ranadive
Kamal Jayasing Ranadive was well renowned Indian biomedical researcher and was a founding member of the Indian Women Scientists' Association (IWSA). She was among the first to recognize the connection between cancers and viruses.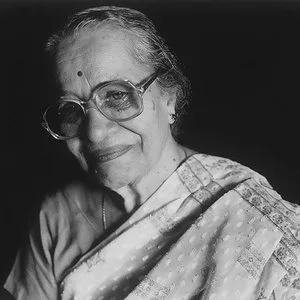 Ranadive was born in Pune on 8 November 1917 to Dinkar Dattatreya Samarath and Shantabai Dinkar Samarath. Her father was a biologist who taught at Fergusson College, Pune.
She established India's first tissue culture research laboratory at the Indian Cancer Research Centre in Mumbai in 1960.
Kamal Ranadive was awarded the first Silver Jubilee Research Award in 1964, by the Medical Council of India. This award included a gold medal and a cash award of ₹15,000 (equivalent to ₹1.1 million or US$14,000 in 2023). She was awarded the Padma Bhushan for Medicine, in 1982.
She was an Emeritus Medical Scientist at the Indian Council of Medical Research (ICMR). Ranadive rested in peace on 11 April 2001.
Google honored Ranadive on her 104th birthday with a Google Doodle on 8 November 2021.
6. Anna Mani
Anna Mani was a well-known Indian meteorologist and physicist and she was the first woman to join the Meteorological department in Pure. Her vision and innovations in the field of meteorology helped in the country's development post-independence.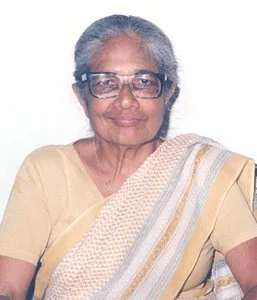 Mani was born to a Syrian Christian family on 23 August 1918 in Peermade, then Travancore, now Kerala, India. Her father was a civil engineer and an agnostic. She was the seventh of eight children in her family and a voracious reader.
She was inspired by the Vaikom satyagraha, a nationalist movement initiated by Mahatma Gandhi, and gave up Western garments and started wearing only khadi garments
Anna Mani graduated from the Pachaiyappas College in Chennai with a B.Sc Honors degree in physics and chemistry in 1939. She won a scholarship for research at the Indian Institute of Science, Bangalore in 1940.
Mani made contributions to the field of meteorological instrumentation, conducted research, and published numerous papers on solar radiation, ozone, and wind energy measurements
Her work in meteorology continues to have a significant impact on today's society. Her visionary contributions paved the way for India to emerge as a global leader in harnessing wind power
She retired as the Deputy Director General of the Indian Meteorological Department and also served as a visiting professor at the Raman Research Institute.
Google honoured Mani on 23 August 2022 with a Google Doodle on her 104th birth anniversary.
Read More: Sarojini Naidu – 'The Nightingale of India'
7. Mani Rajeshwari Chatterjee
Mani Rajeshwari Chatterjee was an Indian scientist and an academician who pioneered research in microwave engineering. She was the first woman engineer from the state of Karnataka.
Rajeshwari Chatterjee was born on 24 January 1922 in Karnataka and had her primary education in a "special English school" founded by her grandmother, Kamalamma Dasappa.
She studied at Central College of Bangalore and earned B.Sc. (Hons) and M.Sc. degrees in mathematics. In both these exams, she ranked first at Mysore University.
Chatterjee received the Mummadi Krishnaraja Wodeyar Award, M.T. Narayana Iyengar Prize, and the Walters Memorial Prize respectively for her performances in the B.Sc. and M.Sc. examinations.
She was the first woman engineer at IISc who joined the Department of Electrical Communication Engineering (ECE) and retired from the IISc in 1982.
Rajeshwari Chatterjee died on 3 September 2010.
8. Darshan Ranganathan
Darshan Ranganathan was an eminent Indian scientist and chemist renowned for her extraordinary work in the field of bio-organic chemistry. She was known for her work in protein folding, supramolecule assemblies, chemical simulation of key biological processes, and synthesis of nanotubes.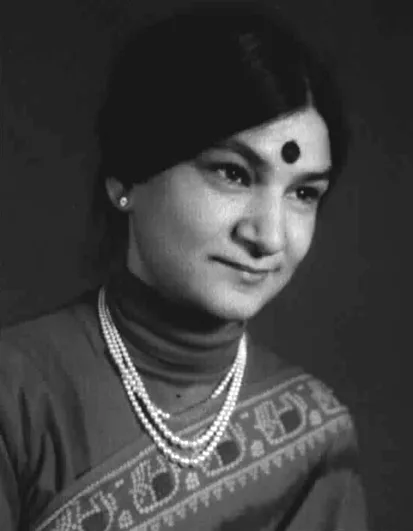 She was born in Delhi on 4 June 1941 to Vidyavati Markan and Shanti Swarup. She completed her early education at Aryaamamj Girl's Primary School and then Indraprastha Higher Secondary School.
Darshan completed her Ph.D. in Organic Chemistry at the University of Delhi and then became head of the Chemistry Department at Miranda College, Delhi.
She received an 1851 Research Fellowship from the Royal Commission for the Exhibition of 1851 which enabled her to conduct postdoctoral work at Imperial College London with Professor D.H.R. Barton.
She began research at the Indian Institute of Technology, Kanpur in 1970, where she met Subramania Ranganathan, and eventually, they got married.
Her most notable work was developing a protocol for synthesizing imidazole, a compound used to make antifungal drugs and antibiotics.
Darshan Ranganathan was diagnosed with breast cancer in 1997, and died on her 60th birthday, in 2001.
Read More: 12 Famous Indian Scientists Who Transformed Our Lives