Ukhrul is a beautiful small district located around 81 km from Imphal, the capital city of Manipur. The hill station of Ukhrul is known for its scenic views and pleasant climate.
The land of the Tangkhul Nagas tribe is no less than a paradise for tourists and has a lot to offer from lush green mountain ranges, majestic waterfalls, crystal clear rivers, and lakes.
Places to Visit in Ukhrul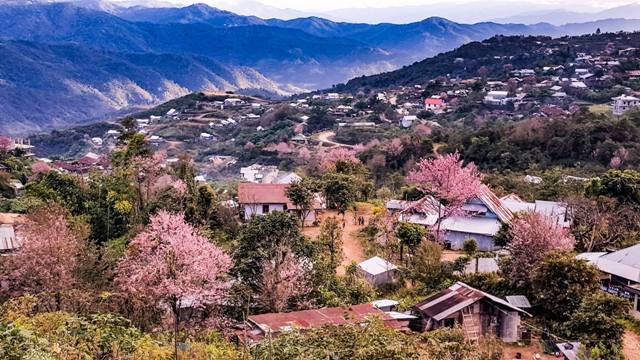 There are many popular destinations in and around Ukhrul that tourists can visit. Some of the famous attractions are Khachauphong Lake, Khangkhui Mangsor Cave, Dilly Waterfall, Hung Dung Manga Cave, and Lunghar Seihai Phangrei.
The hill station is rich in flora and fauna with hundreds of varieties of trees flowering plants orchids ferns, wild roses, and more.
Shirui Kashong Peak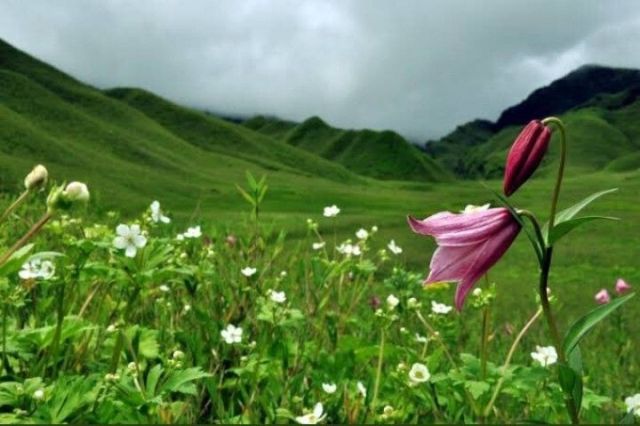 Shirui Kashong Peak is one of the most popular tourist attractions in Ukhrul and an excellent spot for a picnic, making it a year-round destination for tourists. It is located just 18 km east of the Ukhrul at an altitude of 2,835 meters above sea level.
The peak is famous for the rare Shirui Lily (Lilium Mackliniae Sealy), which grows here in its natural habitat. These beautiful lilies bloom in May and June and are a sight to behold.
Khayang Peak
A visit to Khayang Peak and its waterfalls is an off-beat destination and requires extensive trekking for 5-6 days. It is a mesmerizing destination yet to be explored by many travellers. For trekking enthusiasts, the enchanting beauty of Khayang waterfalls will be a lifetime experience that cannot be missed.
💡 Travel Guide – Unexplored Destinations in North East India
Khangkhui Cave
The Khangkhui Cave is locally known as Khangkhui Mangsor and it is a natural limestone cave. The cave has two large chambers and five tunnels. The limestone formations growing from the ground and ceiling offer a unique experience.
The cave was used by the locals as a shelter during World War II. Many important artifacts of the Palaeolithic era have been found by archaeologists in the Khangkhui Cave.
The cave is around 15 km from Ukhrul town and tourists can easily get local public transport or hire private cabs from the town.
Nillai Tea Estate
Nillai Tea Estate attracts a lot of tourists, especially for its lush green aromatic tea gardens and variety of green and black teas. These tea gardens are an absolute delight for nature and tea lovers. The tea estate is located 20 km from the Ukhrul.
The special feature of green tea of Nillai Tea Estate is that its flavors come after the second boil. The tea leaves are hand-picked, sun-dried, and then processed naturally by locals, no artificial processing is done.
Ango Ching forest
The unexplored Ango Ching forest near the Myanmar border forms a natural habitat for elephants, tigers, sambars, barking deer, etc and the natural beauty of the place will surely captivate the attention of tourists.
Best Time To Visit Ukhrul
Ukhrul is a peaceful place and helps you to escape from the hassle and bustle of busy city lives. It has a pleasant climate with temperatures ranging from 3°C to 33°C which makes it an ideal place to visit especially during the summers.
Ukhrul experiences rainfall from the month of April to August and the best time to visit is between October to March.
💡 Read More: Mawlynnong – The Cleanest Village in Asia
Festivals in Ukhrul
Ukhrul is a rich cultural destination popular for its festivities which attract tourists all over the year.
Shirui Lily is the state flower of Manipur and Shirui Lily Festival is celebrated in the district in honour of the state flower during the month of May.
Some other festivals of the Tangkhul Naga tribes that are celebrated with great pomp and show are Luira Phanit, a festival during seed sowing, Yarra a youth festival, Mangkhap Phanit, and more.
Handicrafts in Ukhrul
The elegant and ancient art of Longpi black pottery is mainly practiced by the Tangkhul tribe in Nungbi village, Ukrul.
This craft of black stone pottery is said to be handed down from the Neolithic period and this unique form of pottery craftsmen do not use the pottery wheel.
Longpi black pottery is made from a mixed paste of ground black serpentine stone and special brown clay and this clay is only found in Longpi village. This art form of pottery is called Longpi Ham locally.
The traditional handwoven Haora Shawl is especially for Men whereas the Changkhom shawl is exclusively for Women are very popular.
Read More: 8 Amazing Facts about Manipur – The Jeweled Land
How to Reach
---
Nearest Airport
The nearest airport is the Imphal International Airport (IMF), which is around 90 km from Ukhrul. You can easily hire private cabs or public local transport. In general, takes an average time of about 3-4 hours to reach.
Nearest Railway Station
The nearest railway station is located in Dimapur, Nagaland at a distance of 280 km. Once you arrive at the Dimapur railway station, private cabs and local transport are available for your destination in Ukhrul and will usually take 9-10 hours.
Nearest Highways
Buses and taxis are readily available to Ukhrul from nearby located cities.
---