The Umngot River is the cleanest river in India. It is also known as the Dawki River or Wah Umngot.
The Umngot River flows through Dawki a small town located at the bottom of the Jaintia Hills.
Dawki town in the West Jaintia Hills district in the state of Meghalaya. It is almost 100 km from Shillong.
The town serves as a trade route between India and Bangladesh.
Boating in crystal clear pristine water is quite an experience of a lifetime. It is a remarkable natural landmark in Meghalaya which bewitches the tourist.
The water of Umngot is so clear that you can see the riverbed and it is a breathtaking spectacle.
💡 Travel Tips: Umngot River – All You Need to Know BEFORE You Visit
The Umngot is unarguably one of the cleanest river in India. It is an important fishing spot for local fishermen.
The river sits on the India-Bangladesh border, and a white portion of the river, caused by a rise in the current, marks the unofficial boundary between the two countries.
A suspension bridge known as the Dawki Bridge hangs over the Umngot River. It was constructed by Britishers in 1932.
This suspension bridge can accommodate only a single vehicle at a time and acts as a gateway to neighboring Bangladesh.
💡 Travel Guide: 10 Best Places to Visit in Meghalaya
The Meghalaya government took a decision to construct a dam on the Umngot River in April 2021.
In view of the shortage of electricity. The project was supposed to generate 210 MW of electricity.
The Umngot Hydroelectric Project received a lot of backlash and opposition from the locals.
The local people feared that it would disturb tourism in the area as villagers completely depend on the Umngot River for their livelihood.
And the project was eventually scrapped by the government.
Chambal River is also regarded as the cleanest river in India. It flows through the states of Rajasthan and Madhya Pradesh.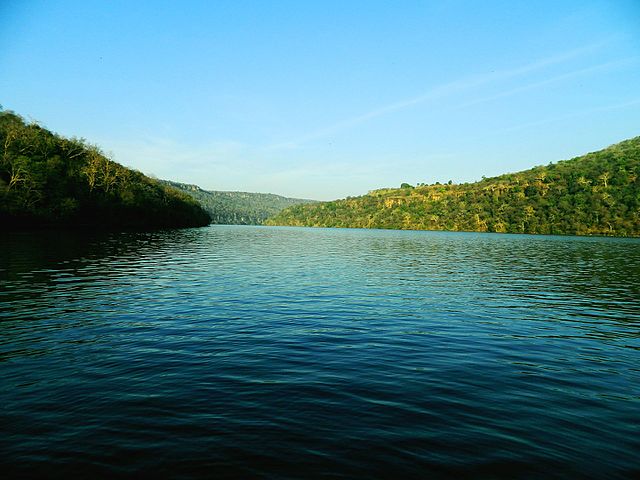 The Chambal River is the most pollution-free river in India. It hosts gharial and mugger species of crocodiles. Many species of turtles, otters, skimmers, sarus cranes, and black-necked storks.
It is also home to Gangetic river dolphins.
Read More: